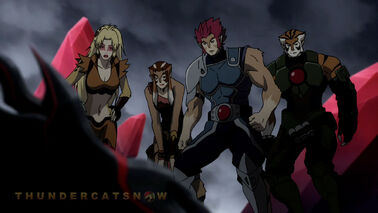 Saturday, May 5: "Curse of Ratilla" The Thundercats infiltrate a mine shaft filled with fellow cats who are being forced to search for the Sword of Plundarr by the evil Ratar-O!
Saturday, May 12: "Birth of the Blades" Mumm-Ra seeks to reclaim the sword of Plun-Darr.
Saturday, May 19: "The Forever Bag" WilyKit, WilyKat, and Snarf track down a thief in Dog City.
Saturday, May 26: "Recipe for Disaster"
The Cats discover a magic elixir that can stop Mumm-Ra, but will they be able to gather enough of it in time to defeat him?